Lose 5 kg weight before the end of the year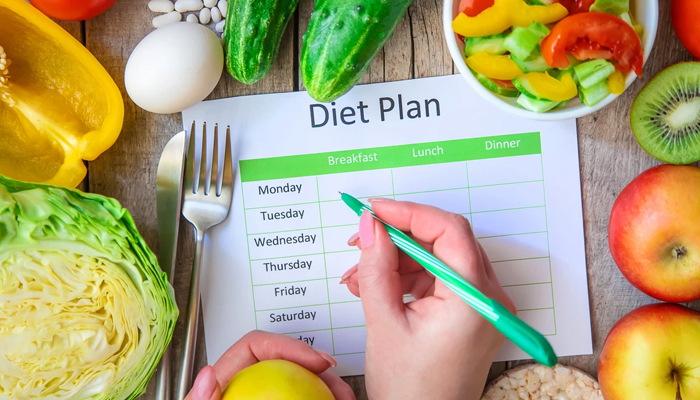 Excess fat, excess weight or obesity, if you are also suffering from these problems, now is the time to lose 5 kg weight in a healthy way before the arrival of the new year and surprise everyone.
With less than two weeks to go before the New Year arrives, it is easy to lose 5 kg easily using the diet plan recommended by nutritionists.
According to nutritionist Dr. Ayesha Nasir, if the following diet plan is followed regularly, you will be able to wear your favorite clothes at the beginning of the new year.
Diet plan
Before going to bed at night, soak a pinch of celery, a pinch of fennel and an inch of cinnamon in a glass of water and drink it in the morning.
Then have breakfast at 8 to 9 o'clock, use a glass of lukewarm milk and 7 almonds (two walnuts can also be used) for breakfast.
If you don't like milk, you can have an egg omelette with a slice of brown bread.
Now have a canoe, malt or seasonal meal around 11 o'clock.
For lunch, a salad of raw vegetables (avoid lentils and peas), half a loaf of bread (chapatti, 40 grams of bread) can be eaten with any vegetable or curry (lentils and potatoes are forbidden).
People who do not use bread can eat salad and only lentils, rice is strictly forbidden in this diet plan.
In the evening, any coffee can be used or boil an inch of ginger and add a teaspoon of honey to this coffee and drink it.
Now for dinner, eat two kebabs made from chicken, fry the kebabs only in coconut oil.
At night before going to bed, take two tablespoons of spaghetti in two glasses of lukewarm water and drink it.
Make sure you consume at least 8 to 10 glasses of water a day during this diet plan.