Rice water can enhance the beauty of the face. Here are 5 tips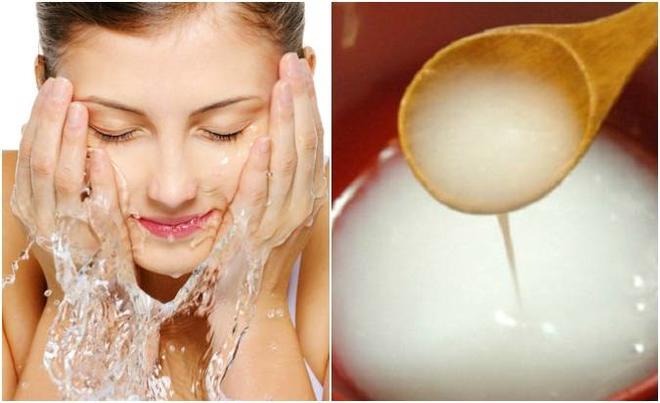 Rice is eaten in every household more or less. They are made almost daily, especially in children's homes. But most of the time, when rice is cooked, its water is thrown away. Because most people are not aware of its benefits. But here are 5 beauty tips that you can use to bring out the best in a parlor. So don't throw away this precious rice water next time, but save it for your skin glow.
1. Facial toner to make skin clean and radiant
What people don't know is that rice water is great for toning your skin. Because the expensive toners and masks you buy to make your skin glow use rice water. Beauty experts say that rice water is an excellent facial toner. Dip cotton wool in rice water to cleanse your face and then let your face dry and then wash your face with cold water. You can also use this tip daily.
2. Also useful for facial acne, freckles
Nail pimples affect the beauty of your face, they are very difficult to get rid of, most women use expensive products for them. The young man's budget is out. If you are tired of acne and expensive creams, try some rice water now.
3. Useful for relieving eczema or ringworm
Eczema is a skin disease in which the skin becomes red, the skin becomes extremely itchy and red marks appear on the skin. It is very painful. Experts say that by dipping a cloth in rice water and applying it on the affected area Apply it and leave it on for a while and then remove the cloth and let the skin dry in the air.
4. Helps to eliminate headaches in case of sunburn
Rice water is also useful in sunburn of the skin. It also eliminates the problem of skin burns and also helps in removing its redness. Some experts also say that in this case, if this water is kept for one to two days then it is more beneficial and if it is kept in the fridge then it is very comforting.
5. For facial wrinkles and dry skin
Put a little coconut oil in rice water or add jojoba oil and apply it on the facial wrinkles. The wrinkles and lines on the face disappear and the skin becomes fresh and young. In addition, in dry and damaged skin, washing your face with rice water two to three times a day gives the best results.
How to make rice water?
When the rice is soaked for cooking, let it soak for at least 30 minutes, or soaking more than that, if not spoiled, can soak even more. And then take out its water and put it in the fridge to cool and use it. Similarly, when water is taken out while boiling rice, instead of throwing it away, put it in the fridge to cool it and use it. It is also a great conditioner for your hair. It also protects the hair from the skin very well.